On October 30, Forum AgroEnergyDAY 2019 and Individual Consultations (Matchmaking) took place at the International Exhibition Center in Kyiv.
Organizers: LLC "Kyiv International Contract Fair" and Bioenergy Association of Ukraine.
Supported by: CU "Global 100RE Ukraine" and Sustainable Agribusiness Forum (SAF).
The 2nd Forum brought together more than 100 participants and was devoted to a wide range of issues, which were combined into 4 sections:
Bioenergy projects in the agrosector
Biogas energy: Ukrainian opportunities, practical cases, modern technologies
Agrobiomass and pellet technologies
Solar energy and energy efficiency in agribusiness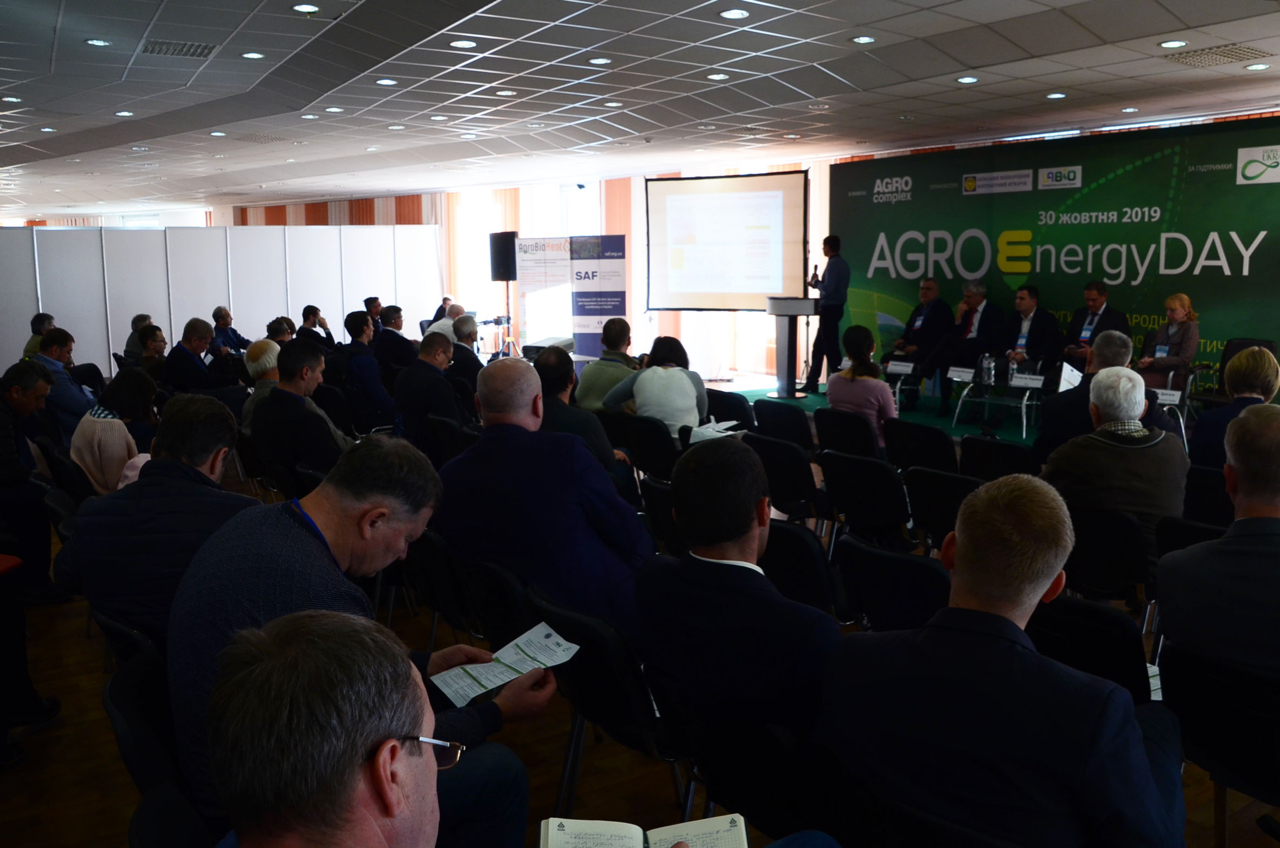 The opening of the forum was attended by Oleg Koval – organizer of AgroComplex 2019 exhibition, Georgii Geletukha – Chairman of the Board of Bioenergy Association of Ukraine, Oleksandr Dombrovskyi – Chairman of the Board of Civic Union Global 100 RE Ukraine, Olena Lenska – Deputy Director of the Renewable Energy Department of the State Agency of Energy Efficiency and Energy Savings of Ukraine and Dmytro Muzhuk – Commercial Director of the company Kriger.
Among the participants were the following companies and organizations: Bioenergy Association of Ukraine, State Energy Efficiency, Global 100RE Ukraine, Kriger, EBRD, PFAN, MHP Eco-Energy, Akkord Ltd., Wolf Systems, Envitek, Salix Energy, MBI Development and others.
Citations
Georgii Geletukha – Chairman of the Board of Bioenergy Association of Ukraine:
"Agrobiomass is the future of Ukraine's bioenergy: Bioenergy Europe is projected to have 60-73% share of agrobiomass of total biomass consumption in 2050 in EU-28 countries".
Oleksandr Nikolaienko – Department of Energy Efficiency and Climate Change of the European Bank for Reconstruction and Development (EBRD):
"EBRD in cooperation with the Global Environmental Facility (GEF) is launching "Sustainable Bioenergy Value Chain Innovation" Programme in Ukraine. The Programme will be launched in 4th quarter of 2019 for a four-year period. Within the project: private sector technical assistance in the implementation of supply chain projects; financial support: EBRD lending: 50,000,000 USD grants up to 20% of the value of the chain, the total grant fund is 3,500,000 USD".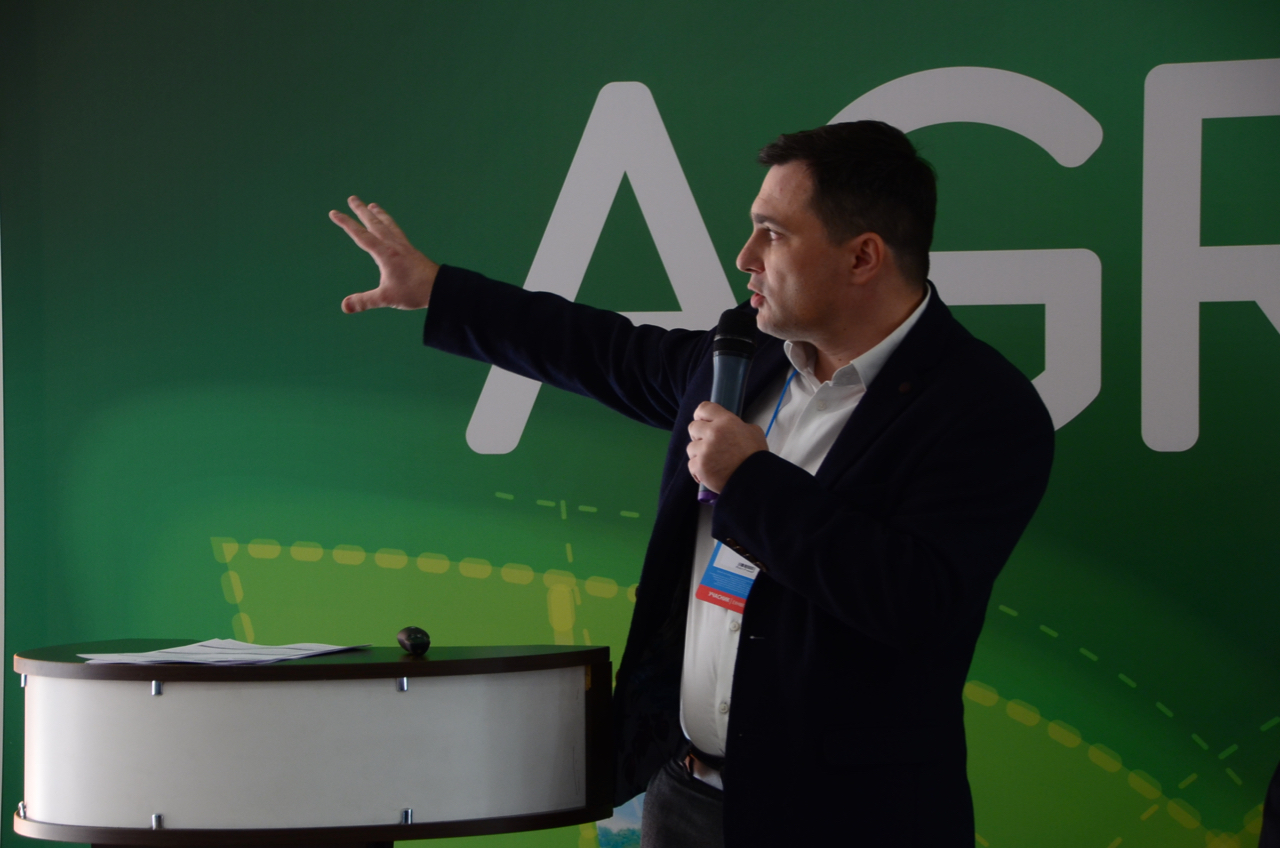 Oleksandr Dombrovskyi – Chairman of the Board, Сivic Union "Global100 RE Ukraine":
"The proper use of bioenergy technology is a true example of a circular economy. Threatening trends in humus balance in soils have been identified in Ukraine. Organic fertilizers are a product of bioenergy in the circular economy. So, the circular economy and adhering to the principles of sustainable agribusiness can help with imbalances".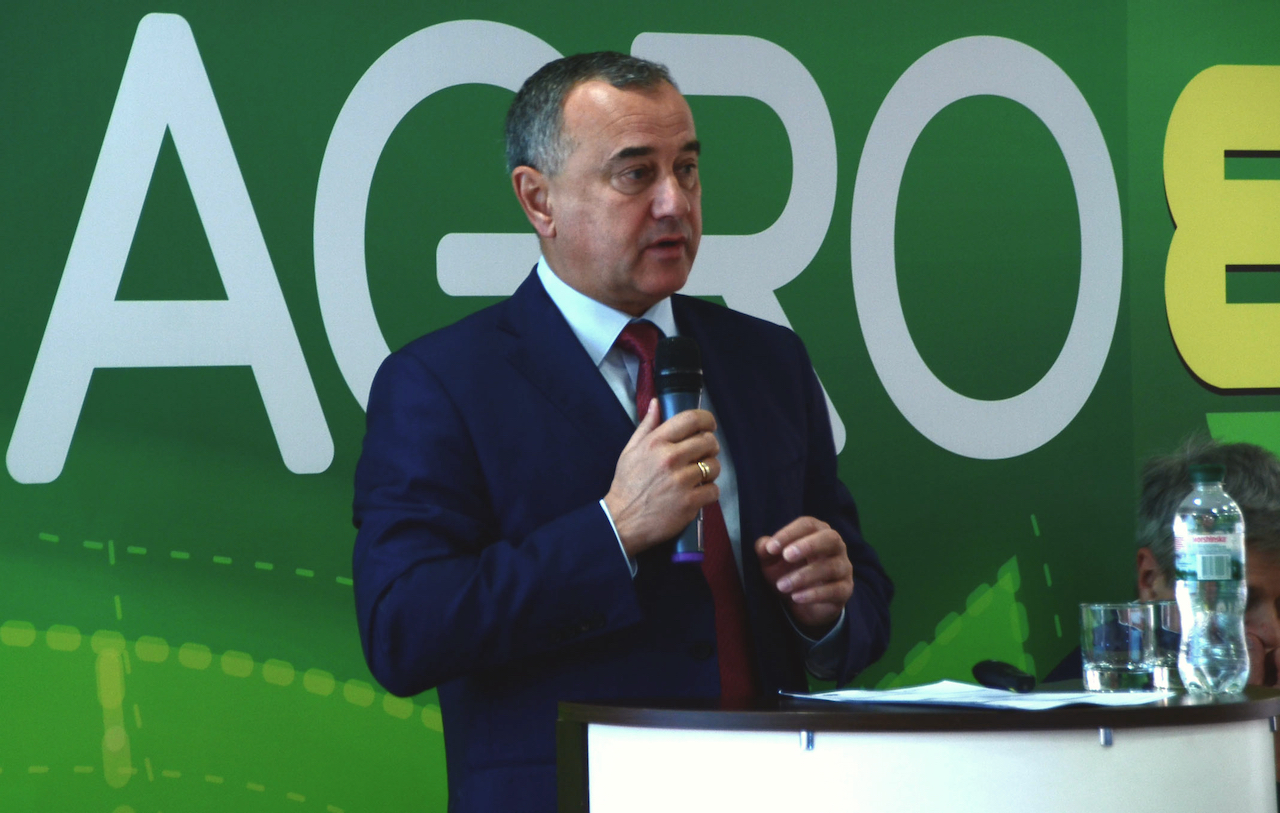 Rostislav Maraykin – Regional Coordinator for Eastern Europe and Central Asia PFAN:
"The PFAN Global Expert Network provides free expert and investment support for entrepreneurs/developers of clean energy projects and climate change adaptation in developing countries".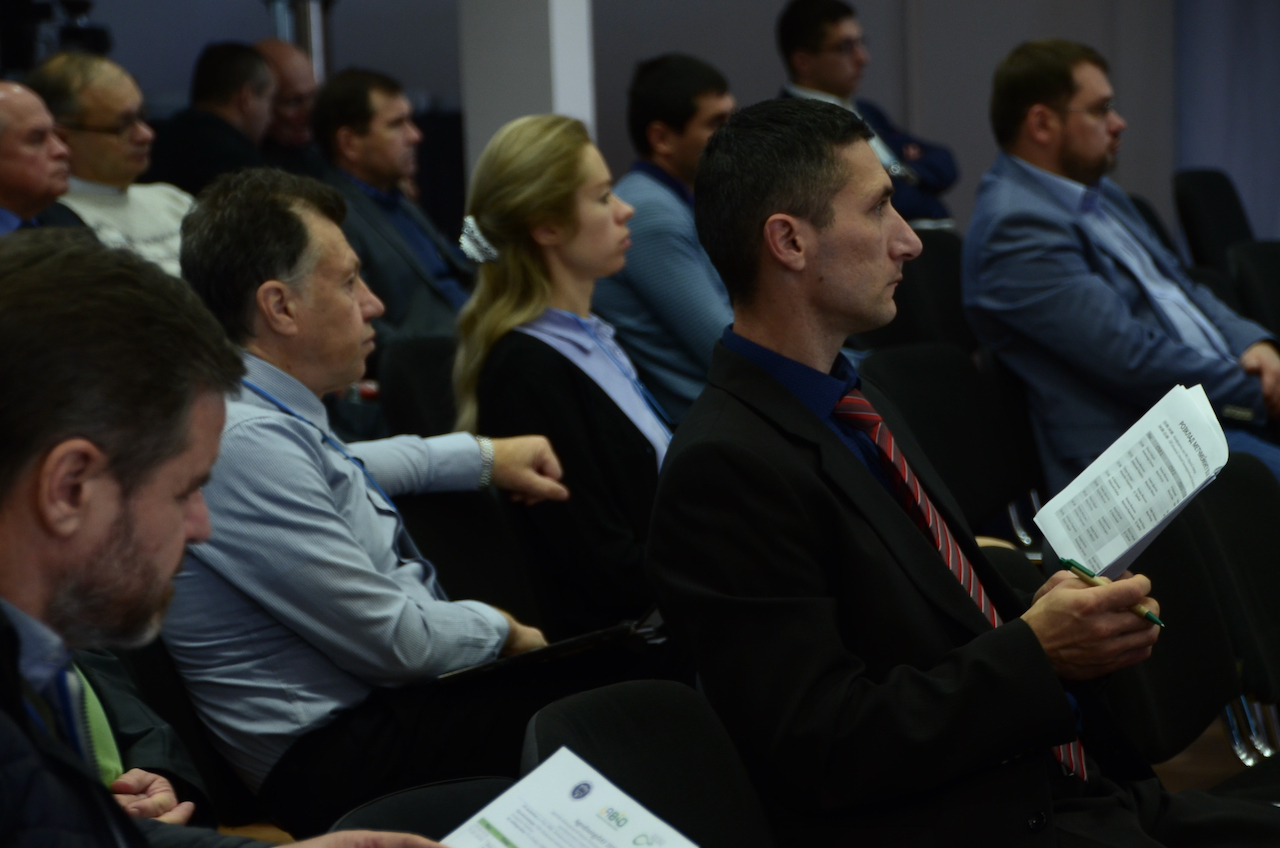 Dmytro Melnyk – Head of MHP Energy Innovation Department:
"MHP is working on the Oril-Leader biogas complex with the technology 3.0. It means that the biogas complex utilizes waste, produces clean energy and organic fertilizers. It leeds to greenhouse gas emissions' reduction".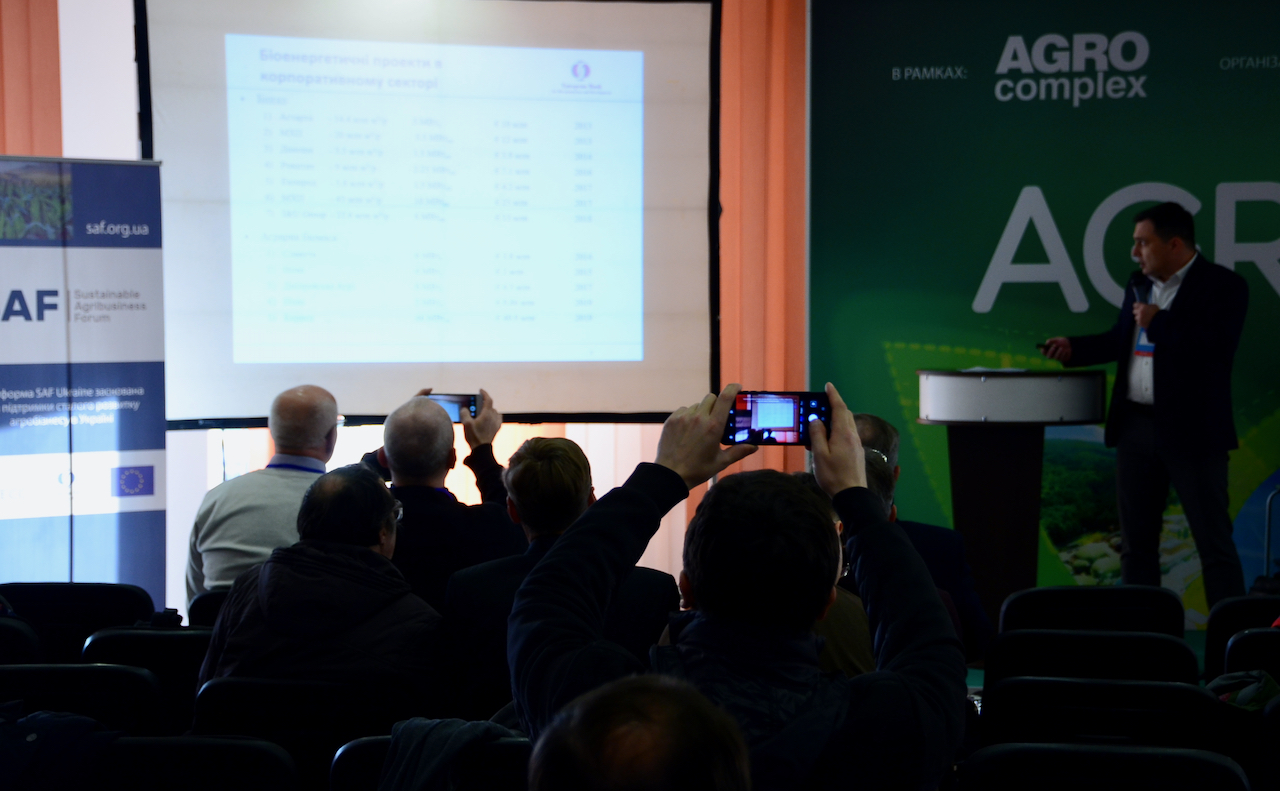 Also, within AgroEnergyDAY 2019, Matchmaking session took place. There were 35 individual consultations and networking on bioenergy with a focus on the energy use of agrobiomass.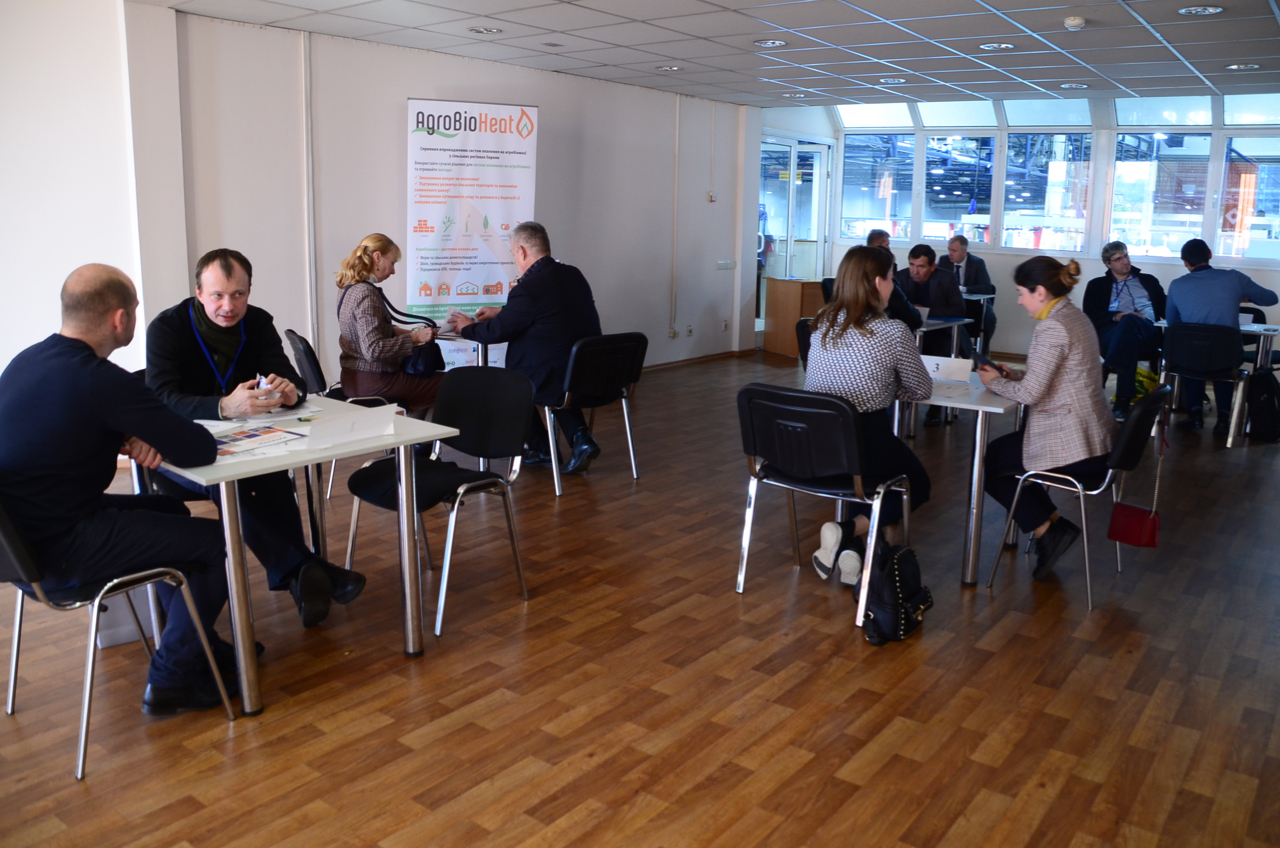 PRESENTATIONS You can view here (in Ukrainian).