Official opening of EBRD/GEF Programme Ukraine: Sustainable Bioenergy Value Chain Innovations was held on November 18 2019 at the Premier Palace Hotel in Kyiv. The programme started at Ⅳth quarter of 2019 and its duration is 48 months.
About 100 experts participated in the presentation and discussion of the Programme, among them representatives of agro-companies, associations, legislative and executive power, public organizations, business and scientists.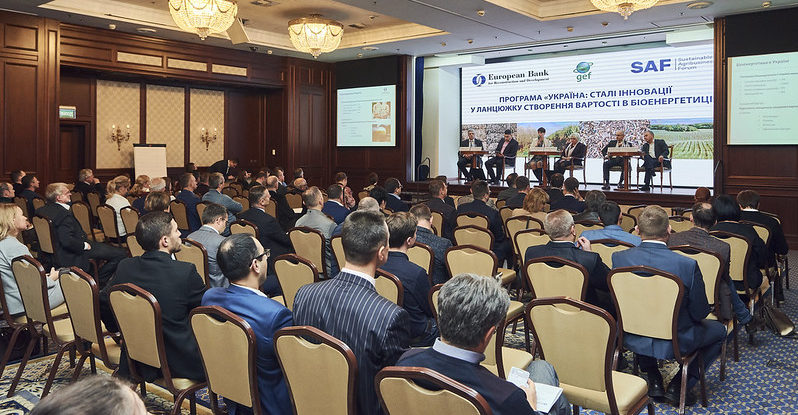 The presentation was attended by Lesya Kuzmenko, Associate Director, Deputy Head Ukraine, ICA (Industry, Commerce and Agribusiness), EBRD, Tetiana Markuta, leading specialist of the EBRD`s Energy efficiency and Climate Change department in Ukraine, Sergii Savchuk, Head of the State Agency on Energy Efficiency and Energy Saving of Ukraine (SAEE), Georgii Geletukha, Chairman of the Board of Bioenergy Association of Ukraine, Oleksandr Dombrovskyi, Chairman of the Board of the Public Association "Global 100 RE Ukraine", President of the MHP Eco Energy and Vladyslav Marushevskyi,coordinator of the Global Environment Facility.
The Programme provides investments in innovative bioenergy technologies and practical ways of agricultural residues and wastes usage through the promotion and sustainable bioenergy value chains development.
The Programme amounts to $ 55.8 million. Moreover, the EBRD is considering the possibility of other donors involvement.
Tetiana Markuta, EBRD Ukraine, welcomed the participants and thanked them for their interest in Programme activities, opened the seminar.
«Bioenergy potential in Ukraine is currently used at no more than 5 percent. Also, the National Energy Strategy does not provide any action plan for bioenergy sphere. Biofuels quality standards need to be developed. In addition, the market lacks information about technologies promotion and development, as well as lack of agricultural companies experience in this field».
Presentation by Tetiana Markuta "Sustainable Bioenergy Value Chain Innovation" (in Ukrainian)
Then, Lesya Kuzmenko, Associate Director, Deputy Head Ukraine, ICA (Industry, Commerce and Agribusiness), EBRD made a speech with a welcoming address:
«Green energy is a priority for the EBRD, which is a major investor and has invested around EUR 500 million in RES since 2006. Including 110 million in the bioenergy and agricultural sectors. The initiated programme aims to contribute to Ukraine's 40% GHG emission reduction plans by 2030. The agricultural sector has great potential by-products that can be used for energy purposes, and the Programme would be a financial tool for their mobilization».
Sergii Savchuk, Head of the State energy of energy efficiency and energy savings of Ukraine, stressed out that the launch of the Programme will encourage investment in the bioenergy sector, which has huge potential for fossil fuel replacement.
«Preserved green tariff plus incentive tariff for heat production will increase the demand for biomass as fuel, so support for the creation of new bioenergy chains is very important».
Vladyslav Marushevskyi, as a representative of the Programme main donor: Global Environmental Facility, in his welcoming speech expressed great satisfaction with the launch of this programme and thanked the EBRD for supporting the main GEF goals: prevention of the climate change, soil degradation and preservation of biodiversity.
«The Bank not only provides funds for green energy development, but also attracts other partners. Thanks to such projects Ukraine is developing. In general, the Global Economic Fund action plan is the most faithful. And this approach helps us not only move in the right direction, but also build a technical model that will be implemented».
Georgii Geletukha made a strong report about agricultural waste and residues usage  for energy production, energy crops cultivation, biogas and biomethane production.
«Biogas plants can become a source of organic fertilizers. Today it is necessary to approve the Amendment of the Law of Ukraine "On Alternative Energy Sources" that regulates sharing of electricity green tariff from biogas to electricity from biomethane».
Presentation by Georgii Geletukha "The role of bioenergy sector in reducing greenhouse gas emissions, sustainability of Ukraine's energy system in ensuring energy independence in future" (in Ukrainian)
Finally, Oleksandr Dombrovskyi paid attention on global warming and climate change impact  as a problem of a dirty economy, consisting of 60% of dirty energy.
«We stand for absolutely green production. I am a supporter of biogas production from biomass. We are now withdrawing over $12 billion from the Ukrainian economy by purchasing energy sources. The potential for substitution of natural gas by bioenergy is 25 billion cubic meters per year, "he explained».
Presentation by Alexander Dombrovsky "The role of bioenergy in the circular economy of Ukraine" (in Ukrainian)
More photos from the Seminar You can view here or below: