Bioenergy production must take into account the economic, social, environmental, and institutional components in order to comply with the principles of sustainable technology development. It will be recalled that the global goal of sustainable development is economic growth through more efficient use of energy and large-scale involvement of renewable energy sources (RES). It is important for bioenergy to prevent both direct and indirect negative impacts the agriculture. For example, when the cultivation of food and feed is replaced by the cultivation of biomass for energy production.
Therefore, it is important to understand whether there is currently free access to land that is not used for agricultural and other purposes, and on which it is possible to grow perennial and annual energy crops.
This study was performed by experts of an international project within the Horizon 2020 Bioplat-EU program. The aim of the project is to promote the entry into the market of sustainable bioenergy in Europe, which uses degraded, unproductive, and contaminated lands for the production of non-food biomass.
Experts of the Bioplat-EU project performed modeling, on the basis of which they made conclusions about the availability of lands for growing energy crops in Ukraine.
The following modeling and further mapping were performed for the following land categories:
Marginal lands are, according to the Food and Agriculture Organization of the United Nations (FAO), lands that have either biophysical constraints: soil constraints (low fertility, poor drainage, shallow humus, salinity), steep terrain, adverse climatic conditions; or socio-economic constraints: lack of markets, difficult accessibility, limited land use, small plots of land, poor infrastructure, unfavorable productivity ratio.
Underutilized lands. Within the Bioplat-EU project, the term "underutilized land" describes (mainly, but not exclusively) agricultural land that has not shown any signs of human activity (including no grazing) in the last five years. Given that the Land Code of Ukraine does not contain the term "underutilized land", the term "unproductive land" was used to describe these categories of lands, the definition of which in the law is close and also belongs to agricultural lands.
Contaminated lands are defined by EU law as "any land that is likely to be contaminated for reasons related to chemicals contained in/on /underground; significant damage that is present or may be caused; pollution of controlled water that is or may be caused."
At the beginning of the project, Ukrainian experts conducted a large-scale information campaign for the initial collection of information from local authorities and local communities on available land plots that meet the definition of degraded, unproductive, and contaminated lands.
Subsequently, on the basis of the obtained data, the mapping of degraded, unproductive, and contaminated lands for bioenergy production was conducted due to remote sensing using Geoinformation systems according to the following scheme:
Review and collection of geospatial data (Copernicus and source data from the primary information collection);
Creation of a reference set for the classification of degraded, unproductive, and contaminated lands;
Modeling for LEVEL 1 – maps of degraded, unproductive, and contaminated lands in Ukraine in general;
Modeling for LEVEL 2 – maps for the most concentrated areas (regional level, two pilots areas).
As can be seen from the scheme above, more than 30,000 plots of lands (with the size of one plot of more than 10 hectares) with a total area of more than 820,000 hectares were identified for Ukraine. The modeling using geoinformation technologies was based on the principle of cascading layers and excluding lands belonging to the categories of forests, built-up lands, water and swamps, protected areas, arable land, as well as other lands unsuitable for bioenergy use (we recommend reading the scheme below).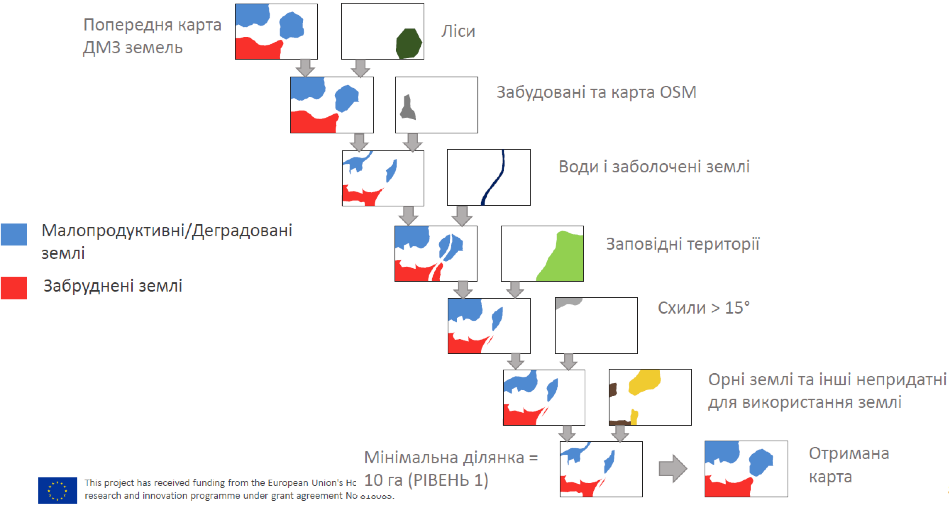 Appropriate modeling was also performed for two pilot sites, where the minimum area of identified land started from 0.5 ha:
Ternopil and Khmelnytskyi regions;
Chernihiv region.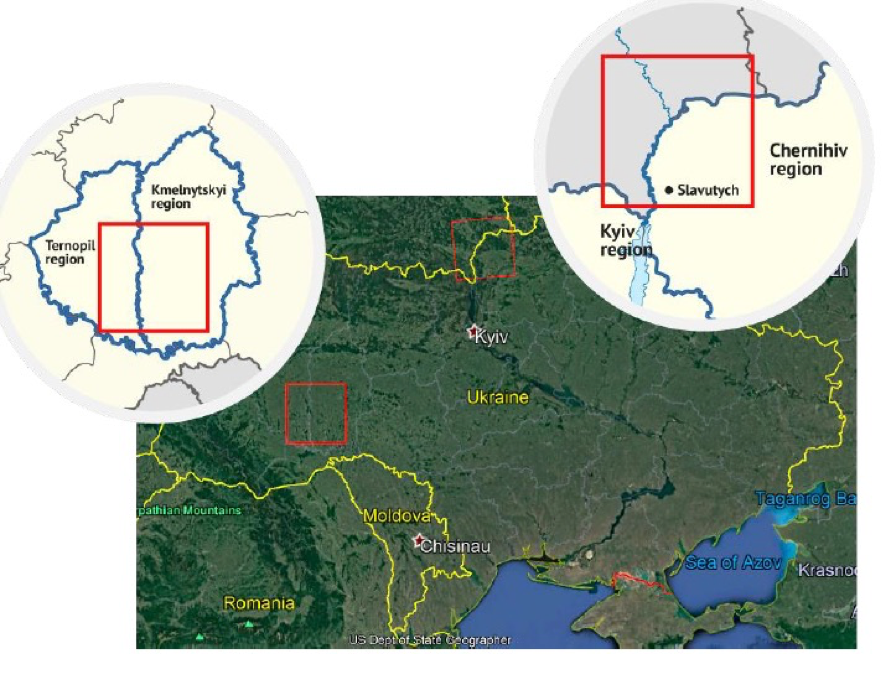 The results of land identification for the two pilot sites are presented in the table below: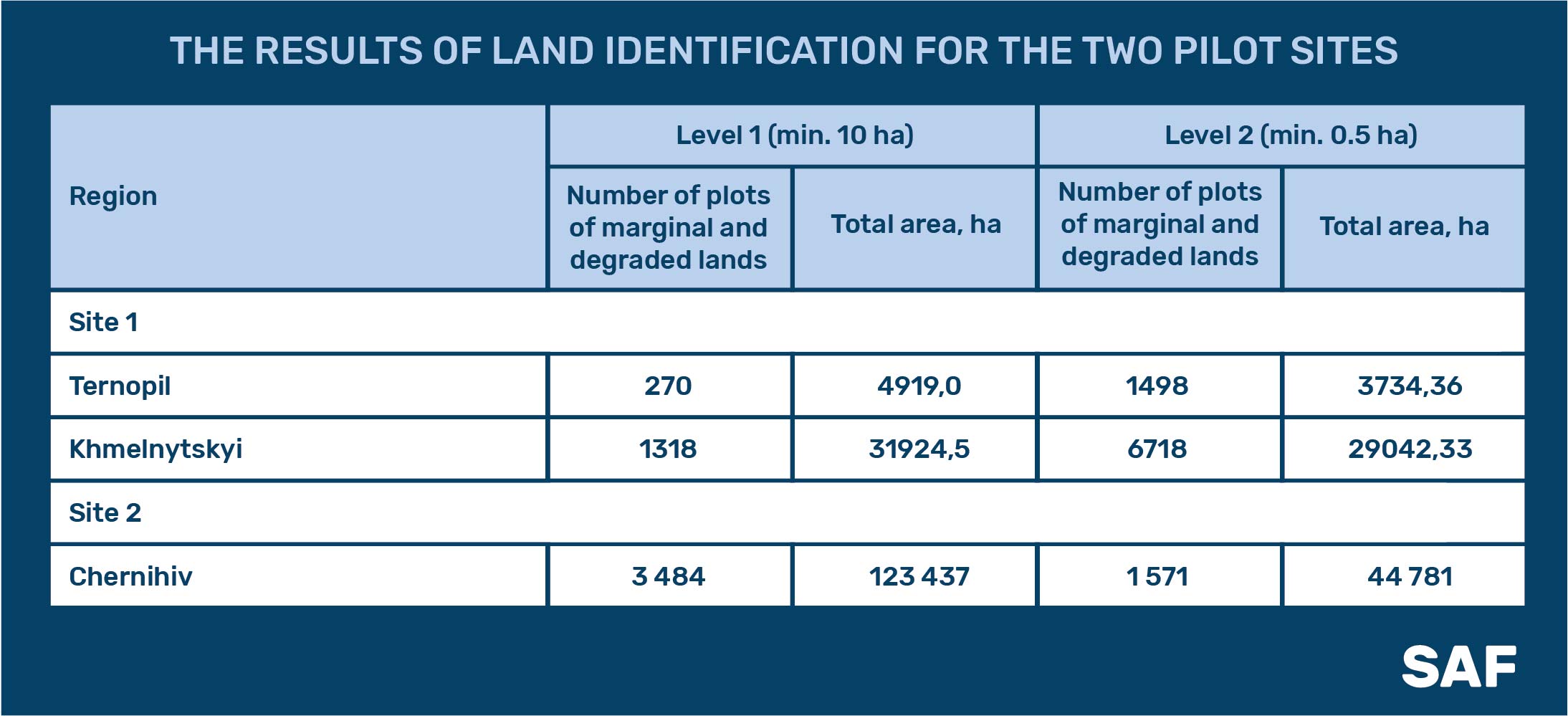 All identified areas (both levels of detail) are plotted on an interactive map, which can be found at the link.
---
Read also about the WebGIS tool for assessing the sustainability of bioenergy projects.