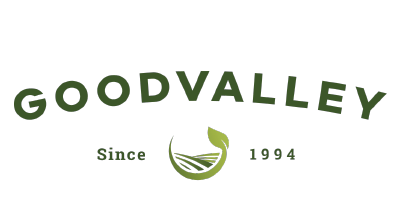 Goodvalley is an international organisation with offices in Denmark, Poland, Ukraine and Russia.
Main crops that are growing by Goodvalley Ukraine are:
wheat
triticale
rapeseed
rye
maize
Company uses modern farming techniques, such as GPS systems. Crops grown at Goodvalley are used for feed, while crop waste is used in the company's biogas plants.
In Goodvalley, biogas serves a number of purposes. Company uses the heat to warm their own farms, the electricity for power and sells any excess to the public grid in surrounding villages. Company stores the fermented biomass in a digestion tank and use it later to fertilize the fields where animal feed is growing.
The first Goodvalley (formerly Axzon) biogas plant commenced operation in Poland in 2005. Today, company has nine – and the tenth is on its way. Every year the company produces more than 60,000MWh of green electricity. And because of that, Goodvalley reduces greenhouse gas emissions (CO2) by 210,000 tonnes annually.