Type of the project: Biogas plant was built in 2018 based on Zhuravka LLC pig farm with a population of 12-15 thousand pigs.
Main parameters of the biogas plant of Gals-Agro company:
Location: Zhuravka village, Varvinsk rayon, Chernihiv region.
Main owner: Gorodysche-Pustovarivska agricultural company Ltd.
Other owners: Gals-Agro Company.
Technology manufacturer: Zorg Biogas, Ukraine.
Commissioning: December 2018.
"Green" tariff (FIT): February 15, 2019
Raw material: Maize silage: 13140 t/yr. Molasses: 550 t/yr.
Pig manure: 55000 t/yr (liquid) + 550 t/yr (solid matter after separation). Cattle manure: 3650 t/yr.
Biogas production: 4.1 mln m3/year.
Biogas utilization: Electricity production: 9500 MWh/year (1.2 MWel installed capacity). Heat production for own use only.
Electricity consumption: Totally 500 MWh/year.
Fermenters: 2 × 3600 m3, wet type.
Digestate: Separation and application on field as organic fertilizer.
Process: Two stages, 41.5-42⁰С, 30-day retention time.
Level of investment: 3.0-3.5 M€ (expert evaluation).
General layout of the biogas installation and pig farm
Biomass-to-energy value chain of the biogas plant of Gals-Agro Company is shown in Figure below. The biogas plant uses internal resources of Gals-Agro company only. They include maize silage, pig and cattle manure, and molasses after sugar production. Both types of manure are delivered from own farms of the company. Pig manure is coming by piping, cattle manure is delivered by road transportation.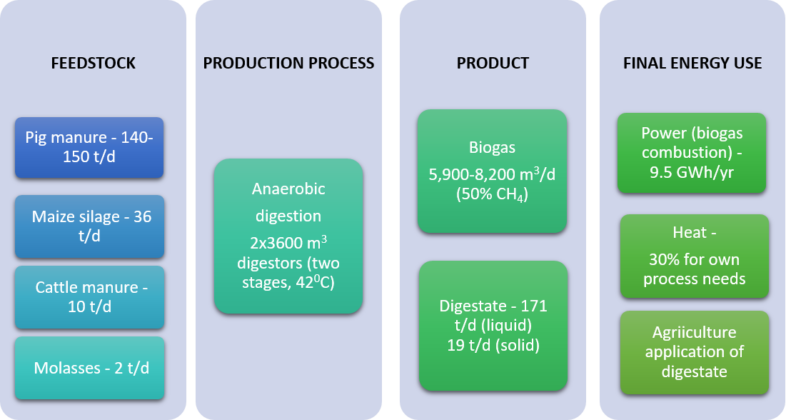 Biomass-to-energy value chain
Maize silage is used as additional raw material with the purpose to raise biogas output. Silage is harvested by Gals-Agro company at own neighbour fields. Plant operator is also used molasses as temporal solution. Molasses is secondary product of sugar production taken from sugar mill owned by Gals-Agro company.
Biogas is used for the production of electricity and heat. The main part of electricity is sold to the grid. Heat is used only for the heating of the digesters. Digestate is separated into solid and liquid fraction for further application on the own fields.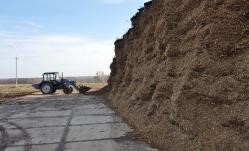 Main storage of maize silage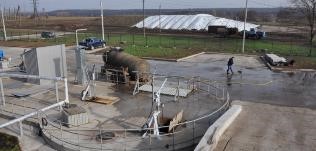 General view of the biogas plant including the main silage storage