In general, the consumption and procurement of fuel chips from wood by communal heat supply enterprises and/or budget organizations and institutions are relatively low compared to the procurement of fuel wood, pellets, and briquettes. Various factors influence this.
During the legal regime of martial law in Ukraine, amendments were made to the Law of Ukraine "On Public Procurement". They have established a wide list of cases when customers can purchase goods by signing direct contracts without using the electronic procurement system. This simplification concerns the provision of urgent needs and critical infrastructure facilities functioning.
The energy sector and life support systems, particularly the production and supply of heat and electricity, belong to the critical infrastructure sectors following the resolution of the Cabinet of Ministers of Ukraine. Therefore, part of the Customers took advantage of this opportunity and signed supply contracts outside the public procurement system. Accordingly, in this analysis, we draw attention to the fact that not all purchases of solid biofuel made by budget institutions, organizations and communal enterprises are reflected in the Prozorro public procurement system. This fact does not allow a full assessment of actual procurement.
In addition, there is no available public information on this type of fuel purchase by private enterprises. Most heating or industrial boilers that use wood chips are privately owned, meaning they are not obliged to purchase fuel through the public procurement system.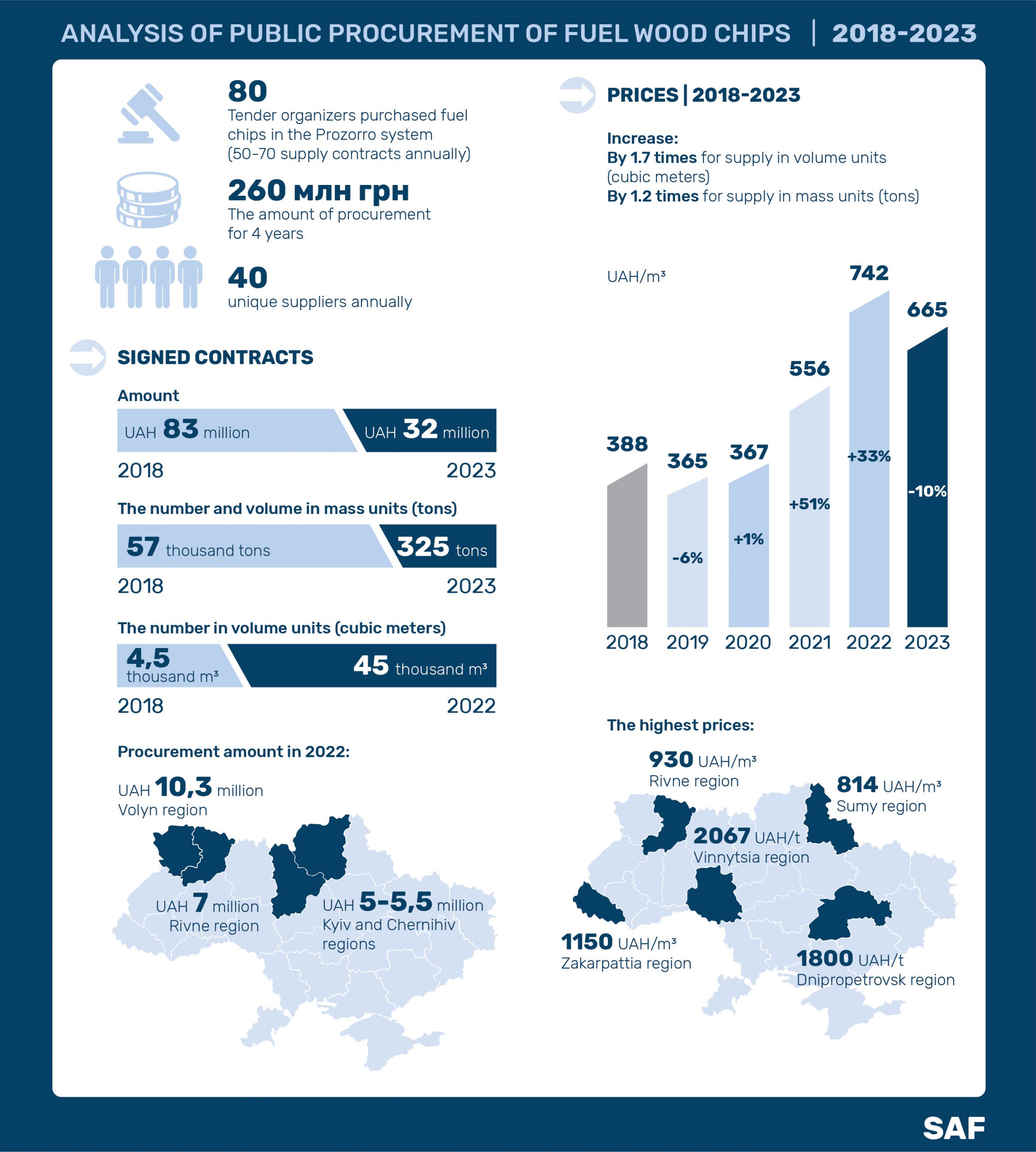 It is worth mentioning that the number of new boilers using wood chips as fuel in district heating systems has been increasing in recent years. However, the economic feasibility of replacing cheap natural gas with biomass is low. This leads to a decrease in the amount of heat production from biomass and a corresponding reduction in the amount of wood chip consumption. However, even in the challenging year of 2022, more than 45,000 cubic meters of wood chips were purchased for heating needs.
In 2019-2022, more than 80 tender organizers purchased fuel chips in the Prozorro system and concluded 50-70 supply contracts annually. The volume for 4 years amounted to about UAH 157 million. In total, about 40 unique suppliers annually signed contracts for the wood chips supply. There is a tendency to decrease the amount of signed contracts: from UAH 83 million in 2019 to UAH 32 million in 2022.
The number and volume of concluded contracts for the wood chips supply in tons decreased sharply: from 57 thousand tons in 2019 to 325 tons in 2022. Only in the Vinnytsia and Volyn regions contracts worth about UAH 700,000 were signed.
Today, the main part of the contracts provides for the supply and formation of the price per cubic meter. The volume of contracts concluded over the past three years has increased from 30 to 45 thousand cubic meters in 2022 for a total of UAH 56 million. The largest amount of signed contracts for the wood chips supply in 2022 was recorded in the Volyn region (UAH 10.3 million), in the Rivne region (UAH 7 million), and Kyiv and Chernihiv regions (UAH 5-5.5 million).
From 2018 to 2023, there was an increase in the price of wood chips by 1.7 times for supply in volume units (cubic meters) and 1.2 times for supply in mass units (tons). The most significant price increase occurred during 2021-2022, and at the beginning of 2023, a price decrease was observed:
2018 – UAH 388/m3;
2019 – UAH 365/m3 (-6%);
2020 – UAH 367/m3 (+1%);
2021 – UAH 556/m3 (+51%);
2022 – UAH 742/m3 (+33%);
2023 – UAH 665/m3 (-10%).
The highest level of the wood chips price was recorded in Zakarpattia region – 1150 UAH/m3, Rivne region – 930 UAH/m3, Sumy region – 814 UAH/m3, Dnipropetrovsk region – 1800 UAH/t, Vinnytsia region – 2067 UAH/t. Consequently, the price of fuel wood chips mostly depends on the region, the presence of industrial boiler houses and biomass CHP plants in it, and the delivery distance.
Informative diagrams are available at the link (in Ukrainian).
---
The analysis was prepared by Yevhen Oliinyk, an expert of the Bioenergy Association of Ukraine, for the SAF Ukraine.