The final report within the project "Biomethane zoning and assessment of the possibility and conditions for connecting of biomethane producers to the gas transmission and distribution systems of Ukraine" is presented. The project is funded by the European Bank for Reconstruction and Development (EBRD).
Prerequisites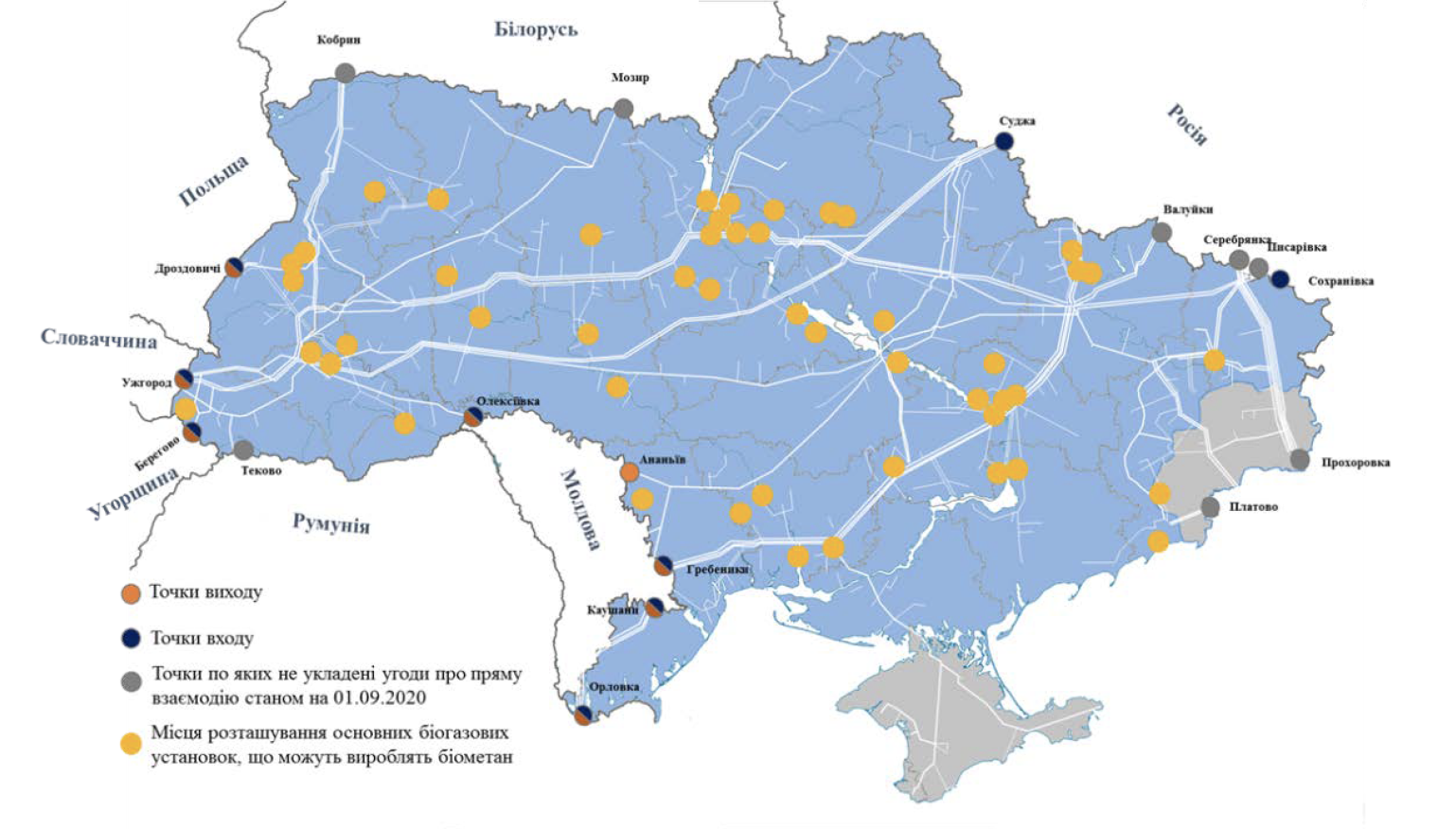 There is considerable untapped potential for a wide spread implementation of biogas and biomethane projects in Ukraine. The Ukrainian natural gas transportation system (GTS) is internationally connected potentially enabling biomethane and other renewable gases physical or virtual delivery from Ukraine to Western Europe. At the moment there is a downward trend in the transit of natural gas to Europe by Ukrainian GTS. Ensuring the maximal possible load of the Ukrainian GTS with natural gas of own production and alternative renewable gases is urgent. 
Ukraine has the largest area of agricultural land in Europe, one of the highest agricultural areas per capita and developed agriculture industry. Using biomethane as a motor fuel is an excellent opportunity for agricultural producers to obtain own energy source by means of waste and secondary products of their own production. 
The use of biomethane for public transportation can significantly improve air pollution in large cities. However, so far there are any examples of biomethane use for transportation in Ukraine including both separately or blending with natural gas. 
Opportunities
Ukrainian biogas sector should be strongly integrated into the modern energy system and network. Besides that, the sector should hold a strong foothold in national the nutrient recycling activities and participate in the archiving of the national target of greenhouse gases emission reduction. 
Using the capabilities of the Ukrainian GTS connected to European GTSs and, in the long term, virtual export to the EU market could improve the economic attractiveness of biomethane production in Ukraine. Development of the Ukrainian Register for biomethane production and utilization and cooperation with similar Registries of EU countries is the potential possibility to exchange the biomethane Guaranty of Origin (GoO) with other countries. 
---
This study is executed by initiative and financial support of the European Bank of Reconstruction and Development (EBRD) to prepare an assessment of the biomethane production potential and conditions for use in the gas transmission system of Ukraine, and to support the partnership, knowledge sharing, and marketing activities to promote for biomethane production and use.